OUR ASSOCIATIONS ABROAD - KUD KOLO BADEN
OUR ASSOCIATIONS ABROAD - KUD KOLO BADEN
As we all know, there are people all over the world who, although they do not live in their homeland, spread the tradition all over the world. Their main goal is that our game and song do not fall into oblivion, but also that everyone gets the opportunity to get acquainted with it. This time we had the pleasure to get more information from Slaviša Serdar about KUD KOLO Baden.

As a five-year member and vice-president of KUD, Slaviša pointed out the most important information, but also many interesting things.
THE ORIGIN OF SOCIETY ITSELF AND ITS GOALS
The goal of founding our society in 1981 was for everyone to have one place for our people to gather, to change their opinion and for their children not to forget their mother tongue, customs and tradition.

KOLO was founded by 6 families, who also played folklore in the motherland, and they wanted to continue it in the diaspora as well. Among the main initiators, who are still alive and active in our club today, is Boško Lopušina.

The Baden kolo had only 16 to 20 members. Over time, society developed. It was only in 1997 that we took our premises and then we founded a preparatory ensemble and a folklore school.

Today, there are 30 folklore societies in CH and the financial pressure is very high and the Matica takes a lot more money for arrangements than they used to do.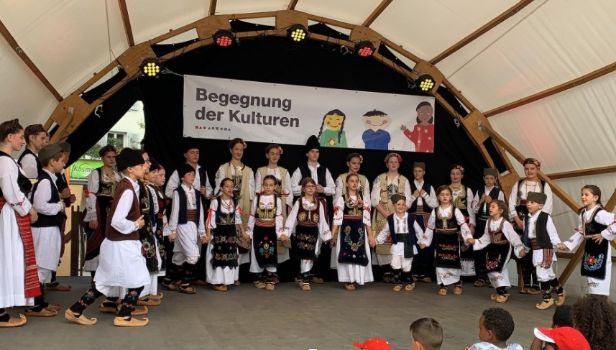 KOLO - ONLY THE NAME INDICATES THE STRONG CONNECTION OF SOCIETIES ABROAD AND IN SERBIA
The name of our company is from our national ensemble KOLO from Belgrade. We copied the first dance and steps from a video cassette from the state ensemble KOLO. Over time, we just developed, and younger people came who had the great motivation and developed it all further. I would like to name Karl Duric, who has been active since 1986 and the main one who also founded our groups: a children's group and a folklore school, and later a group of veterans.
THE IMPORTANCE OF CULTURAL ART SOCIETIES FOR THE PRESERVATION OF TRADITION
In general, I think that it is very important to preserve tradition and culture everywhere in the world, wherever someone is. Cultural societies contribute a lot to the fact that "we" in the diaspora do not forget where we come from. Societies like ours gather people with the same desire - nurturing the Serbian tradition, our language.

We have one partner company in Serbia and that is the Center for Nurturing Traditional Culture "Abrasevic" Kragujevac. It is a long-term partnership that we nurture.
INTERESTING FACTS ABOUT KUD KOLO BADEN
Basically, every 2-3 months (sometimes more often) we have (until it was the crown) some events, whether it was parties with performances, or parties only with music, some trips, some city festivities where we sell kebabs and burgers - there has always been some action and I hope there will be again soon.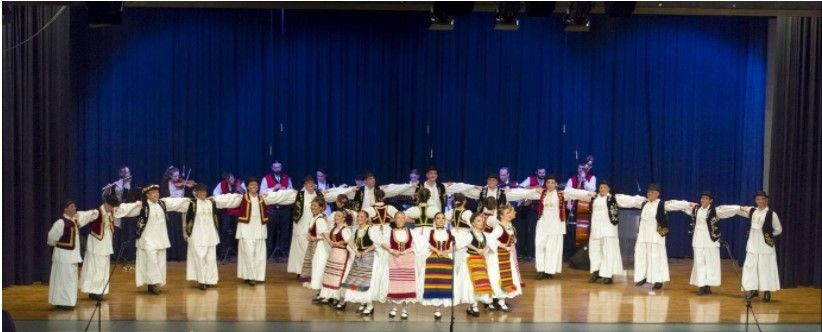 CONNECTION WITH SERBIA AND ETERNAL DERBY
I personally miss our people and that relaxed atmosphere that is present whenever I am somewhere in the Balkans. And besides people, I miss our food. Unfortunately, we do not come to Serbia, or we have not come at least since I played in KOLO. It is difficult to organize all members to take time off in 4-5 days - because everyone works, studies or goes to school, so it is difficult for us all to take time off for 4-5 days and go somewhere to perform abroad. But you never know, we try to make it happen!

As for the derby, we are somewhere equal here - there are those of us who support Partizan and Red Star. We keep some balance.
PERFORMANCES
I only performed in Switzerland. The performance that I remember the most is the performance with friends KUD Vez in Lausanne where we shared the stage with Jelena Tomašević and the second annual concert I remember very well, because together with our friends from CZNTK Abrašević played games from Leskovac and after the choreography there was another encore which was great for me and full of euphoria.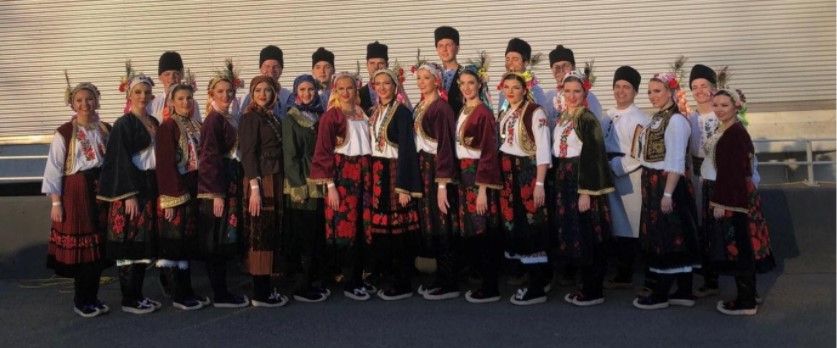 INVITATION FOR FUTURE MEMBERS
- Young people should join our society, because we maintain and preserve our tradition in the diaspora. Those three sentences would sound:

Do you like to hang out, sing and dance? Do you like Serbian tradition and its customs? Want to learn the history and origins of various songs, games and choreography of our area? Then be YOU a part of our society!

We have approximately 120 active members divided into 3 groups - 1. Ensemble, Middle Group (Preparatory) and Folklore School and in addition we have another group of veterans.
 
IF YOU ARE INTERESTED IN JOINING KUD KOLO BADEN, YOU CAN DO IT IN THE FOLLOWING WAY
As for contacting us, anyone can contact us via social networks (Instagram and Facebook), via email, or personally to me or President Karel Djuric.

Apply for newsletter
Sign up for the Serbianshop newsletter and get a 10% discount.