Get to know Serbia - dance show Una Saga Serbica
In our section get to know Serbia, today we have the honor to present you the dance spectacle Una Saga Serbica!
We are conducting this interview with a man who, back in 2004, conceived and officially founded Una Saga Serbica - Svetozar Krstić.

He describes himself in his words, born in Belgrade during Tito's time back in 1980, an educated player at the Belgrade school "Lujo Davičo", a professional player of folk dances since he was 6 years old, played tens of thousands of performances. He toured all continents with various associations, KUDs and theaters. Designed and founded Una Saga Serbica - 2004 officially. Produced and signed the choreography of 3 major projects within the Saga. He raises the culture of the traditional serbian dance and promotes it at every opportunity with the help of his wife Ana Krstić. Proud father of two boys.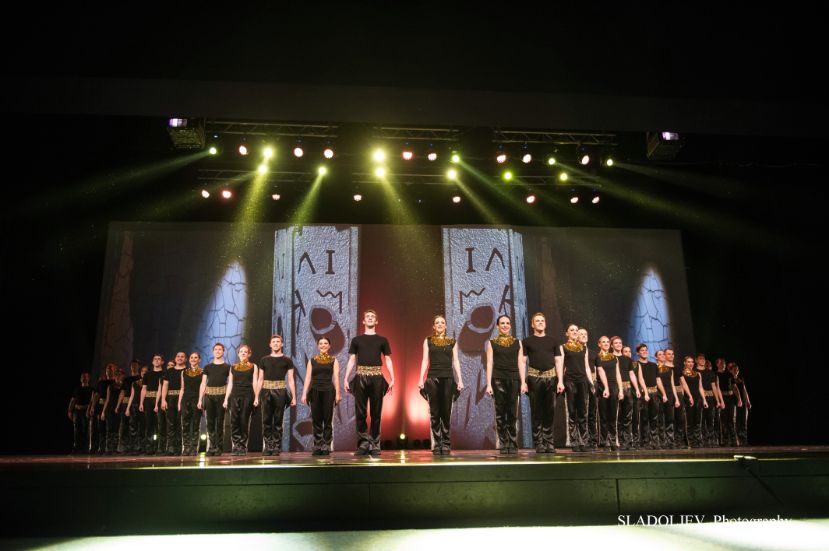 What is Una Saga Serbica in general (for that minority, which does not know)? And how would you describe the spirit behind Una Saga Serbica for someone who has never heard of you?
The playful spirit driven by the traditional games never went off the stage or went out of fashion - it lives on in us. Una Saga Serbica is a dance group that aims to preserve the tradition of playing folklore and to introduce it to the 21st century.
"Saga" has three basic branches: dancing theater aimed for children, dancing show projects with which it performs on large and small stages and the dance center where, in addition to rehearsals of the first ensemble, other programs are held that we offer as a dance school.
The biggest stronghold of the troupe are dance show projects with which we perform both in the country and abroad. In addition to concerts that we produce ourselves, we often perform at various events. It has also opened the door to the corporate world, so engagement and cooperation with companies and large companies is proof of great interest in cultural content and in such occasions.

Share with us some insights from the beginning - how did it all start?

Una Saga Serbica as an idea originated in the late 90's, while I, Krstić Svetozar, as a player performed at Walt Disney World (Florida, USA), as a member of the regular line-up of KUD Frula. Playing original folklore choreographies in a place that embodies the modern and dream world, I wanted to combine these two, until then, incompatible formats into one "show". The association was officially registered in 2004, when we started dealing with ballet performances intended for preschool children. The realization of the first project for the big stage "Games and Sounds of the Balkans" came in 2012.
More than 12 years have passed from idea to realization! You simply cannot realize projects of this size within a couple of years from the time you get the idea. Thanks to the experience I gained by organizing and playing plays for preschool children, I had the preparation and the foundation to continue growing. In 2004, the Saga became a two-member association. As the author, choreographer and artistic director of the troupe, my wife Ana Krstić shares the same desire: the growth of the troupe, a much larger production and a big stage. The realization of the idea would be impossible without her support. In 2012, the first project was put on paper and the circus of organizing the show was in full swing, and then the number of members grew exponentially.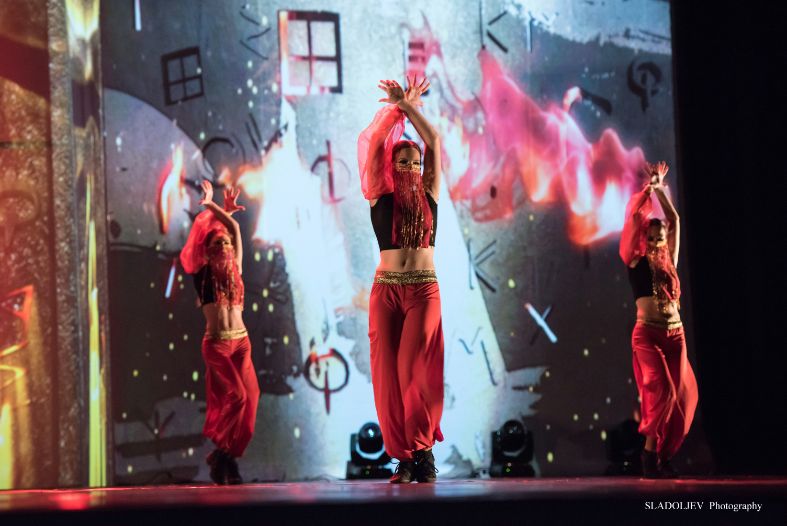 Is there a regular show in Belgrade and are you going on tour?

There are no regular performances in the form of repertoire in any of the Belgrade theaters, but we regularly organize concerts in our own production, and performances are mostly at the invitation of festivals or local communities or companies. I take this opportunity to announce a concert that will take place on July 19, 2020 at Tasmajdan in Belgrade. Follow us on social networks or sign up for our Una Saga Serbica mailing list for more information.

Which performance do you remember the most and in where did you perform already?
We performed in literally all cities in Serbia, in the region of Bosnia and Herzegovina, Republika Srpska, Macedonia, Oman ... And our young players from the Game Center performed at competitions in Rome and Prague 2019 and won first place in both! I am especially proud of those performances :)
The most beautiful memory is the first big performance in 2013 at the Sava Center in Belgrade, when we premiered the project "Games and Sounds of the Balkans" after a year of working on the project! Seeing the realization of your own vision, 40 players on stage, original music, costumes and scenography for the first time is an absolutely unforgettable experience. Each of our performances since then has the epithet the most successful so far because the number of audiences and spectators grows with each new performance. Strange and funny situations follow us at every performance, one comes to mind when applying for a visa - one player was rejected for the stated reason that he looks like a terrorist. This is a guy who recently graduated from the Medical Faculty of the University of Belgrade, and he is anything but a terrorist.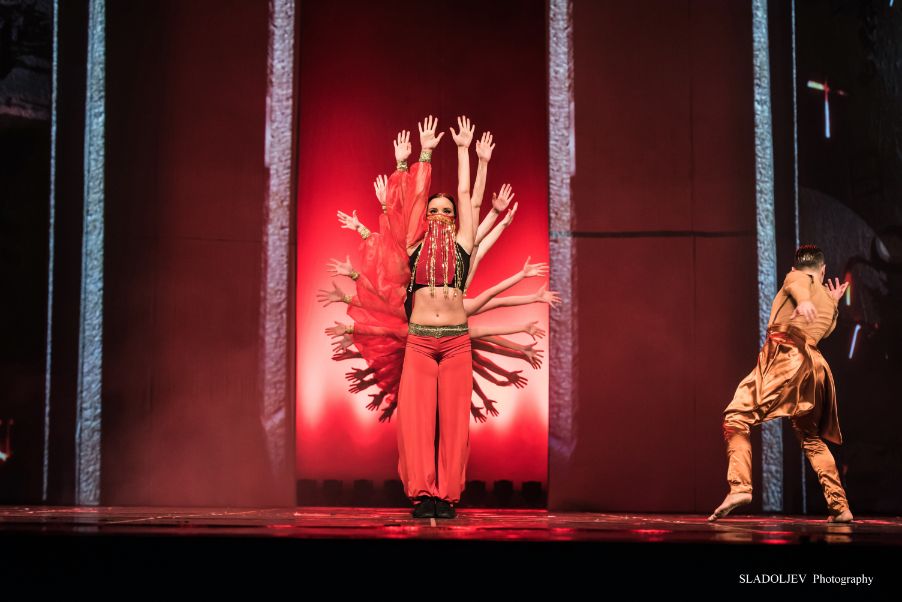 How many dancers are there in one show and how many trainings are needed?

The first ensemble practices throughout the year, three times a week in our Dance Center in Belgrade. Each project so far has required a different number of players, but it is certainly a minimum of 10 players, and as many as 300 players performed in front of TC Ušće in Belgrade 2015 for Telekom Srbija. It all depends, the number of players adapts to the choreography, and if it is a matter of hiring a dance group by private companies, that number really varies and depends on the needs and desires of our business partners.


How important is social media today to reach the younger generations?
Online presence is indispensable and we pay special attention to that and nurture our "online persona" because that is the way and the way of informing our audience. In addition to our site through which people generally get informed and get in touch with us, it is still social media that gives us the opportunity to get a feed back from our audience! The communication is two-sided and impresses the troops the most because they see "black and white" reactions and that gives validity to the abnormal work and sacrifice of the players. Of course, we at the head of Sage are also impressed when we see the "written" enthusiasm of the audience and words of praise. A month ago, we completed a new site that presents our work in a better way. We are especially proud of the Game Center and the great interest of young people who want to play, and now visitors have the opportunity to apply through the site for both the center's programs and the first ensemble.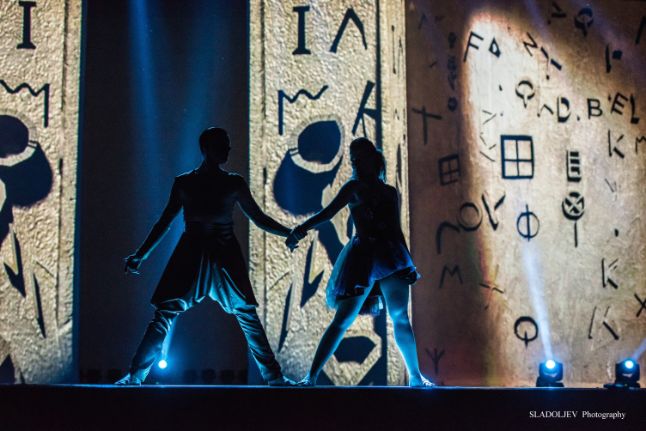 Michael Flatley made Irish dance planetarily popular. What are the ambitions of your ensemble? Can we call you the "Serbian Michael Flatley" in some future?

You can always call me Svetozar Krstić, the founder of a powerful and Serbian dance ensamble - Una Saga Serbica :) I am flattered by the comparison, but I believe that after any performance of our troupe, you will not even remember what other performances look like. Ambition has never been lacking, the future is before us. The biggest ambition is to realize that it is precisely culture from which everything else grows further - development, and above all tourism, rely on it. To make the younger audience understand - we are content. Having quality content is dry gold today, so you can observe our dance group through that prism. Without us, modern life is unthinkable! Whether you are visiting a small place or you want to see an unusual spectacle in the Sava Center or you are a company that wants to delight its employees and business partners at its event - Una Saga Serbica is what you need. It is also an ambition for the younger generations to start in a different way and to bring folklore, tradition, games, dances, music closer to them and keep them in that world for as long as possible, because discipline, respect, teamwork, socializing and traveling are unforgettable. The cherry on the cake is that children develop physically and grow healthily.

If someone wants to get more information about the tour and plans, where can they get it?
On the Una Saga Serbica website, they can subscribe to our mailing list, through which we regularly send all notifications. They can also send a request for hiring our dance ensamble through the company's website. The Gaming Center offers all notifications and program descriptions / appointments as well as online registration for new members.
We recomend to follow Una Saga Serbica on social media!
Facebook @UnaSagaSerbica and @IgrackiCentarUSS and instagram @UnaSagaSerbica

Apply for newsletter
Sign up for the Serbianshop newsletter and get a 10% discount.