FC RED STAR WHITE T-SHIRT RETRO CREST
FC RED STAR WHITE T-SHIRT RETRO CREST
Šifra: F-30-541
Brand: Crvena Zvezda
This t-shirt of the football club Crvena Zvezda will surely win you over with its retro design and authenticity. Featuring a beautiful retro club crest, this shirt brings a dose of nostalgia and pride for all fans. This is the original FK Crvena Zvezda Belgrade shirt, made in white, which highlights the beauty of the design and provides a fresh and modern look. The T-shirt is made of high-quality cotton, which ensures comfort and softness when wearing it.
Whether you wear it in the stands or on everyday occasions, this shirt will allow you to show your passion and support for Red Star in an authentic way. Don't miss the opportunity to add this beautiful t-shirt with a retro crest to your collection or to give it as a gift to a true football and Red Star lover!
DETALJNIJE
FEATURES:
Original T-shirt of FK Crvena Zvezda Belgrade
Composition: 100% cotton
The material has been carefully selected to ensure the longevity of the shirt, so you will be able to wear it again and again.
APPEARANCE:
T-shirt Zvezda retro crest with print on the front
Color: white
SIZES:
Available sizes: S, M, L, XL, XXL
The sizes in the table are European, the dimensions are in centimeters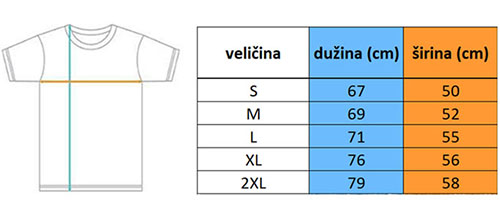 Apply for newsletter
Sign up for the Serbianshop newsletter and get a 10% discount.