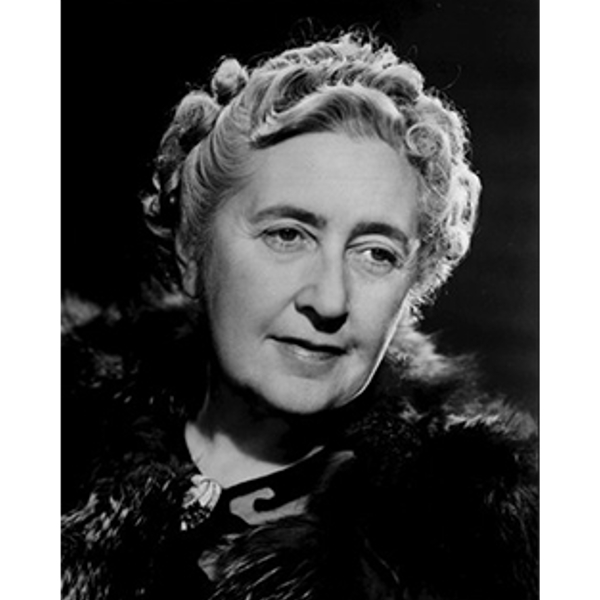 Agatha Christie – The Queen of Crime Novels

Agatha Christie (September 15, 1890 – January 12, 1976) was a British author and one of the most popular writers in history. As the world's most renowned mystery writer, she earned the nickname "Queen of Crime."

Throughout her prolific literary career, she penned 66 detective novels and 14 short story collections. Over four billion copies of her works have been sold worldwide and translated into more than 50 languages.

Her play "The Mousetrap" holds the record for the longest-running play in theater history. Premiering in London in November 1952, it has had over 25,000 performances.

Bestselling Author of All Time

According to the Guinness Book of Records, Agatha Christie is the best-selling author of all time. Only the Bible and Shakespeare's works have experienced greater sales compared to Agatha Christie's books.
In her crime novels, she created some of the most recognizable characters in British literature, such as detective Hercule Poirot and Miss Marple. Agatha Christie's books are also available for purchase online.

The Cases of Hercule Poirot

Online book sales offer Hercule Poirot's most famous case, the novel "Murder on the Orient Express." On a journey from Istanbul to Calais, the famous Orient Express train is halted in the middle of the night due to snowdrifts, somewhere in Yugoslavia. The next morning, the train is greeted with one fewer passenger.

An American tycoon is found dead in his compartment, with the door locked from the inside. The murderer is on the train, and detective Hercule Poirot must uncover the culprit before another murder occurs. Witness the brilliant deductive power of the Belgian detective by purchasing the online book "Murder on the Orient Express" on SerbianShop, considered one of Agatha Christie's most famous crime novels.

Online books that are part of the "Cases of Hercule Poirot" collection, available for purchase through online book sales, include: "Cards on the Table," "Lord Edgware Dies," "Appointment with Death," "The Mysterious Affair at Styles," "Three Act Tragedy," and others.

The Mysterious Cases of Miss Marple

Miss Marple, alongside Hercule Poirot, is another famous literary character created by Agatha Christie. Books in which this ingenious elderly lady solves mysterious murder cases can be found online. The book "A Pocket Full of Rye" is part of the detective story collection titled "The Mysterious Cases of Miss Marple," in which Miss Marple solves an "accidental murder" while visiting a friend at a rehabilitation home for offenders.

Also from the same collection is "Miss Marple's First Mysterious Case" titled "Murder at the Vicarage" and another online book by Agatha Christie.

How Did Agatha Christie Become a Writer?

Raised in Devon at the end of the 19th century, Agatha Christie learned to read by the age of five. Unlike her siblings who went to school, Agatha was homeschooled by her parents and enjoyed reading, writing poetry, and playing music from an early age.
Agatha Christie began her formal education in England in 1902, before moving to France three years later to continue her studies. In 1910, she returned to England and began writing her first short story.

Today, the British writer is remembered as the best-selling author in history. Her detective books, filled with mysterious plots, extraordinary characters, and masterfully solved murder cases, are available through online book sales.

Delving into the World of Agatha Christie

If you're looking to immerse yourself in Agatha Christie's captivating stories, online book sales provide a convenient way to explore her extensive catalog. Whether you're a fan of Hercule Poirot's ingenious detective skills or Miss Marple's quiet yet astute observations, there's no shortage of thrilling crime novels to choose from.

Film and Television Adaptations

Agatha Christie's works have also been adapted for film and television numerous times, further solidifying her status as a beloved author. Some of the most notable adaptations include:
• "Murder on the Orient Express" (1974), directed by Sidney Lumet and starring Albert Finney as Hercule Poirot
• "Death on the Nile" (1978), directed by John Guillermin and featuring Peter Ustinov as Hercule Poirot
• "The Mirror Crack'd" (1980), directed by Guy Hamilton and starring Angela Lansbury as Miss Marple
• The long-running British television series "Agatha Christie's Poirot" (1989-2013), with David Suchet portraying the iconic detective
• The BBC series "Agatha Christie's Marple" (2004-2013), with actresses Geraldine McEwan and Julia McKenzie taking turns playing the role of Miss Marple
These adaptations bring the world of Agatha Christie to life on screen, providing fans with the opportunity to see their favorite characters and stories in a new light.

Agatha Christie's Enduring Legacy

Agatha Christie's writing continues to captivate readers and audiences worldwide, with her intricate plots, memorable characters, and innovative storytelling. Her work has stood the test of time, remaining popular and relevant even decades after her passing. As a result, her legacy as the "Queen of Crime" and the best-selling author in history is firmly established.

For those looking to delve into the world of Agatha Christie, online book sales provide an accessible way to discover her novels and short stories. From the gripping cases of Hercule Poirot to the subtle yet powerful investigations of Miss Marple, there's something for everyone in the vast catalog of this iconic author.

The Influence of Agatha Christie on Modern Crime Fiction

Agatha Christie's work has left a lasting impact on the crime fiction genre. Her innovative storytelling techniques, meticulous plotting, and engaging characters have influenced countless authors who followed in her footsteps. Some modern crime fiction writers who have been inspired by Christie's work include:
1. Ruth Rendell: Known for her psychological crime novels, Rendell often cited Agatha Christie as a significant influence on her work. Like Christie, Rendell was skilled in crafting intricate plots and surprising twists.
2. P.D. James: As a prominent British crime writer, P.D. James often drew inspiration from Christie's work. She admired Christie's ability to create complex puzzles and develop memorable characters.
3. Louise Penny: A contemporary crime fiction writer, Penny has expressed admiration for Christie's storytelling techniques. Penny's own novels, which feature Chief Inspector Armand Gamache, pay homage to Christie's use of a recurring detective character.
4. Ann Cleeves: Best known for her "Shetland" and "Vera Stanhope" series, Cleeves has mentioned Agatha Christie as a formative influence on her writing. Cleeves' work, like Christie's, emphasizes character development and setting.
5. Tana French: French's intricate, character-driven mysteries have drawn comparisons to Agatha Christie's work. Her novels, which often explore the psychological aspects of crime, reflect Christie's influence in their careful plotting and suspenseful storytelling.

Agatha Christie's Impact on Popular Culture

Beyond the world of literature, Agatha Christie's work has also left an indelible mark on popular culture. Her stories have inspired a variety of media adaptations, such as board games, video games, and even theme park attractions. The board game "Clue" (known as "Cluedo" outside of North America), for example, shares similarities with Christie's murder mystery plots.

Video games like "Agatha Christie: The ABC Murders" and "Agatha Christie: Death on the Nile" allow players to step into the shoes of her famous detectives and solve intricate mysteries, further demonstrating the enduring appeal of her stories.

In 2019, a theme park in South Korea, named "Agatha Christie Village," was announced, with plans to recreate the settings of some of her most famous novels. This project exemplifies the extent of Christie's influence and the enthusiasm of her fans around the world.

Whether it's through her direct impact on modern crime fiction, her influence on popular culture, or the continued popularity of her own works, Agatha Christie's legacy as the "Queen of Crime" is sure to endure for generations to come.
If you're interested in reading Agatha Christie's works in Serbian language, visit SerbianShop to find a wide selection of her books. Don't miss the chance to immerse yourself in the unforgettable mysteries of this extraordinary author.
 

Apply for newsletter
Sign up for the Serbianshop newsletter and get a 10% discount.