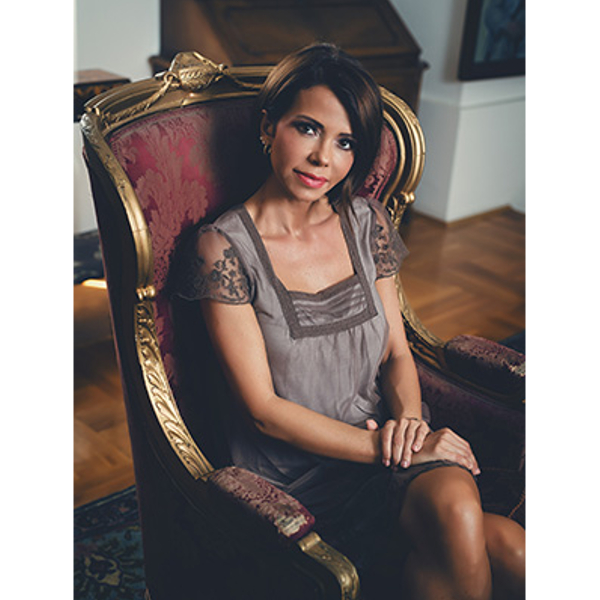 Jelena Bačić Alimpić je rođena 26.03.1969. u Novom Sadu. Završila je Gimnaziju u Sremskim Karlovcima, odsek klasična filologija i Filozofski fakultet u Novom Sadu,smer jugoslovenska književnost i srpskohrvatski jezik. 1987 god. počela je da radi na JRT mreži (TV Novi Sad) kao stalni honorarni saradnik u Dokumentarno – obrazovnom, Informativnom i Kulturno – umetničkom programu. 1993. godine napušta televiziju i odlazi u Kanadu na usavršavanje engleskog jezika. Od 1995. godine do 2004. godine je radila kao urednik u časopisu PRESS GROUP. 2004. godine prelazi na TV "Pink" i radi kao voditelj talk-show programa "Lepota, zdravlje i još ponešto". Od jeseni 2005. godine počinje da vodi "Bravo Show". Dobitnik je dva "Oskara Popularnosti", 2000. i 2001. godine. Dobitnica je i nagrade za najuspešnijeg TV novinara 2005. godine u izboru TV Novosti. Udata je, majka je dvoje dece i živi u Novom Sadu. Svoj spisateljski prvenac "Ringišpil" u izdanju "Lagune" Jelena Bačić Alimpić je promovisala glamurozno na čuvenom "salašu 137" u društvu brojnih poznatih ličnosti.
Source: Laguna

Apply for newsletter
Sign up for the Serbianshop newsletter and get a 10% discount.