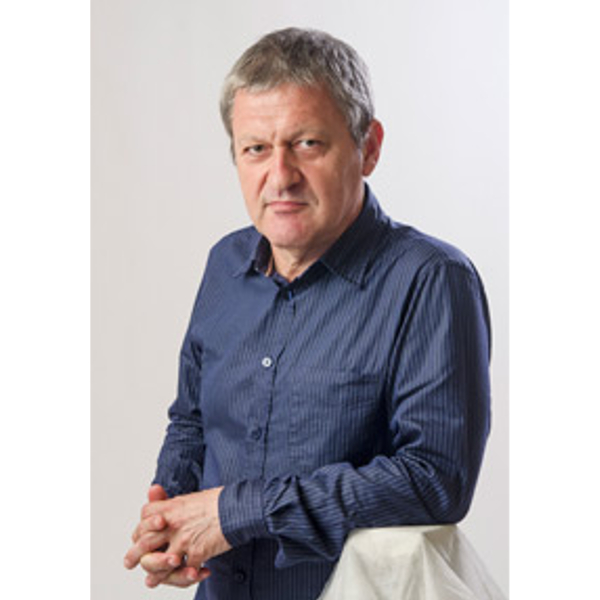 Dragan Velikić, rođen u Beogradu 1953. godine. Diplomirao je opštu književnost sa teorijom književnosti na beogradskom Filološkom fakultetu. Od 1994. do 1999. godine bio je urednik izdavačke delatnosti Radija B 92. Pisao je kolumne za NIN, Vreme, Danas, Reporter i Status. Od juna 2005. Do novembra 2009. godine bio je ambasador Republike Srbije u Austriji. Živi u Beogradu kao slobodni književnik.

Romani: Via Pula (1988 – Nagrada Miloš Crnjanski), Astragan (1991), Hamsin 51 (1993), Severni zid (1995 – stipendija Fonda "Borislav Pekić"), Danteov trg(1997), Slučaj Bremen (2001), Dosije Domaševski (2003), Ruski prozor (2007 – Ninova nagrada za najbolji roman godine, Nagrada "Meša Selimović" za najbolju knjigu godine, Srednjoevropska nagrada za književnost), Bonavia (2012), Islednik (2015 – Nagrada "Kočićevo pero", Ninova nagrada za najbolji roman godine, VItalova nagrada)

Knjige priča: Pogrešan pokret (1983), Staklena bašta (1985), Beograd i druge priče (2009).

Knjige eseja: YU-tlantida (1993), Deponija (1994), Stanje stvari (1998), Pseća pošta (2006) O piscima i gradovima (2010).

Knjiga izabranih intervjua: 39,5 (2010).

Monografija Pula – grad interval (2014) – u koautorstvu sa fotografom Igorom Zirojevićem i istoričarkom umetnosti Paolom Orlić.

Knjige Dragana Velikića prevedene su na petnaest evropskih jezika. Zastupljen je u domaćim i inostranim antologijama.

Dobitnik je Nagrade grada Budimpešte za 2013. godinu.
Source: Laguna

Apply for newsletter
Sign up for the Serbianshop newsletter and get a 10% discount.